2022 Digital Trends: Gen Z Is Setting The Standard
Gen Z's digital trend is presently the most considerable demographic group globally. They are spending an average of 3 hours on social media per day. Social Media is their go-to medium for everything, including entertainment and news to shopping and messaging.
These digital natives are propelling where social is headed next. And even if Gen Z isn't your target audience now, in 10 years, they will be. So comprehending their influence on the social universe will help give your brand a competitive advantage in 2022 (and beyond).
The social networks with the most monthly Gen Z users are Snapchat 42.4 M, TikTok 37.3 M, and Instagram 33.3 M. They will remain the most popular digital trends among Gen Z over the next four years. Their reach will grow steadily as Gen Z ages out of popular teen platforms. In addition, millennials and baby boomers are using Facebook, Pinterest, Twitter, more. This presents many opportunities that will continue to cycle from one generation to the next.
Digital Trends For Social Media Sharing
Since the pandemic, most businesses have depended on a more robust customer care strategy to find their happily ever after. Brands will be persistent in meeting customers where they are. Socials are a core pipeline for customer care, and social marketers will be highly successful. Those who understand this intuitively and know the customers deeply will be successful.
According to Hootsuite, the internet had 4.95 Billion users in January 2022. The average daily time spent by each user was almost 7 hours per day. Social media user numbers increased by more than 13 percent over the past year, with nearly half a billion new users taking the global user total to almost 4.2 billion by the start of 2021.
On average, more than 1.3 million new users joined social media every day during 2020, equating to roughly 15½ new users every single second. As the internet and online platforms grow, businesses have the means to reach a larger audience. Major social media platforms give your business unique access to reach your target audience moreover others who may be interested in your services but are unaware that they exist. Continuing to grow well into the future.
Digital Trends & Maximizing Your Customers Social Experience
There's more to social commerce than having a "buy now" button in your posts. Social media has become a top digital trend for online brand analysis, second only to search engines, and widely used for every stage of the purchase journey. That's why businesses are reimagining how their commerce experience looks. To win in 2022, you must create a considerate path that guides and expands far beyond the point of purchase.
In the wake of more than a year of being locked in our homes and numerous lockdowns, the way we function in everyday life has undergone a monumental change. The pandemic has driven the transition of our relationship with the digital world. But more than simply leading us to spend more of our lives online – both for work and for relaxation– it's emphasized the impact of digital inequality.
More than a simple lack of devices, it's signifying global wealth inequality and the systemic issues that will be exacerbated as we move into an ever more digitized world. So in 2022, brands should look to lessen the digital divide where it makes sense for them to do so.
Digital Trends: Utilizing Influencers & Creators
Authentic communities are becoming more prevalent on social media, brands that partner wisely with creators and influencers are connecting with new audiences, earning their trust, and accumulating cultural capital.
However, if you want to make an impact with this  trend, you'll have to work harder to create ads that mirror and enrich the different experiences each social network offers. Utilizing Influencers and creators is an innovative marketing tactic that, when implemented with ads, can positively impact your brand and your business.
Social commerce is a trend that is here to stay. In 2022, small businesses will extend the customer experience across social and real-life storefronts, while large enterprises test the limits of the online shopping experience.
Digital Trends & The Importance Of Building Brand Loyalty
The more prominent the interaction and association between your business and your customers, the more pleased they can become with your brand. Providing constant updates, quality content, and unparalleled customer service may help customers create an emotional connection to your company, ultimately leading to brand loyalty.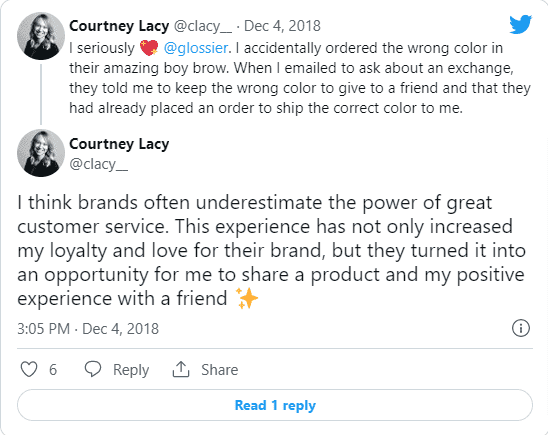 Delivering more relatable, personalized, and valuable content is one of the best ways to interact continuously with your consumers. Establishing a solid and noticeable brand identity is so crucial to the survival of any business. Brand identity is all the visual elements of a brand, including the design, color, logo, and font that distinguish it in consumers' minds.
Brand identity is tangible, appealing to the senses, and creates instant brand recognition through visual associations. Brand identity is crucial in creating and maintaining a brand's relevancy in consumers' minds.
Think about NIKE. You don't have to see the name to know the brand. You see the "swoosh" and immediately know that's Nike. Their brand identity is one of the largest in the world.
The brand's voice is an identity that must remain consistent throughout the branding process and needs to be communicated through methodical choices in brand identity. All brand elements—from name to color choices and typography—should align to create a coherent and consistent identity.
Digital Trends: Social Media & SEO – Make Them Work Together
There's a lot of information and misinformation about the impact of social media on SEO.
Regardless of the debates over this digital trend, causation, correlation, and whether there are signals built directly into search engine algorithms that relate to social media, there's consensus within digital marketing that if you're doing SEO, you should be thinking about social, as well.
Creating a clear link between websites and owned social profiles is a must. Beyond that, creating feeds to bring social content to websites and having links back to social profile pages is essential.
We strongly recommend putting together a plan to create as much content and gain as much engagement on social sites as industry-leading competitors in the traditional marketplace, search rankings, and social media realms. This trend will continue to grow and become more competitive over time, especially if your business is in a highly competitive market.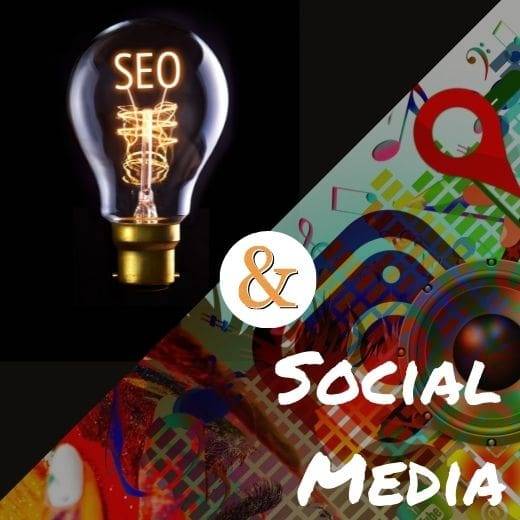 According to the Nielsen Social Media Report, active social media users are more likely to be influenced offline. Social media is now beginning to impact its' users' decision-making processes. Reviews and blogs are posted constantly describing colleges, restaurants, products, companies, etc. Some people have learned to rely on these reviews to make their decisions.
For example, Johns Hopkins University created "Hopkins Interactive," a social media site designed by current students for prospective students. On this site, prospective students can see the unedited versions of students' experiences at Hopkins. Prospective students visit this site to get a behind-the-scenes look to determine if it is right for them.
55% Of Consumers Learn About New Brands On Social Media
Social media is a place for discovery, and now, it's nearly as common for consumers to learn about brands or companies on social as through TV or radio ads.
In the age of streaming, we don't need to watch or listen to ads anymore. Instead, we can fast forward, change the channel or take our pick from an infinite library of commercial-free content. However, ads and brand content live in or next to a social stream on social media and look a lot like the content we consume from our friends, family, and other connections.
When we look closer at the 55% of consumers who learn about new brands on social, Gen Z and Millennials are especially likely to use social for brand discovery. As the spending power of these digital natives increases, the size of social networks will also continue to grow, reaching over 243 million social network users in the US by 2025. So if your brand isn't poised to capitalize on the growing networks, those consumers will probably discover your competitors first.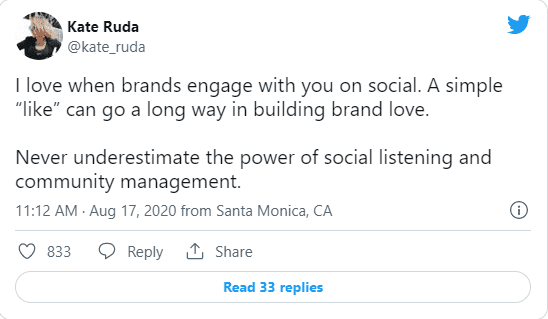 While traditional marketing and advertising methods are one-way media, where brands rely on their monologue to win over a consumer, social media empowers dialogue and gives consumers unique opportunities to engage.
At least two in five consumers report engaging with a brand or company by "liking" its posts or following it on social media. Additionally, consumers treat social media as a feedback loop where they can report issues with products, leave a review or privately message a company.
Not only does a positive experience encourage a customer to make a purchase from your brand, but they're also more likely to choose your brand over competitors, recommend your brand to their own network and feel stronger brand loyalty.
A positive experience is predicated on specific customer expectations, but there are several factors that businesses should keep in sharp focus.
Social can make big brands feel welcoming and accessible. On the other side of the spectrum, small businesses can use social to reach larger audiences while also engaging local, loyal followers. But without the right tools and resources to enhance your social presence, explore new creative content, and efficiently communicate with audiences at scale, businesses risk falling behind.
Digital Trends: Final Thoughts
Businesses of all kinds are finally starting to see social differently—as a full-blown business function that's much more than a marketing tool. As a result, companies will rely more heavily on social data than ever before to inform strategies and business decisions for marketing.
As other businesses across your niche begin leveraging social data, you will need to leverage your own. Social marketers like Nation Media Design are already masters in turning social data into strategic business recommendations, targeted content, and more. Start proactively showcasing that expertise to influence other elements of your business.
Prepare for this digital trend and catch the news wave of digital transformation.
Nation Media Design is always here for you. We have strategic methods in place to help with all aspects of social media. Our team can guide you through the process and start generating revenue through social Talk to us today and discuss how!