1. Yoast Is Not Pushing Updates Fast Enough – Rank Math Is
Our clients are fast-paced, and SEO is vital for their business. Therefore, having a platform to optimize every portion of their website is crucial. Unfortunately, we have had issues with Yoast's plugins. Updates are not coming fast enough, and the plugin breaks, becoming challenging to optimize the website's content. We tried to rectify this several times, but it became increasingly difficult. Enter, Rank Math.
2. Moving On With Rank Math Over Yoast
We decided to sever ties with Yoast and look for a new platform. We discovered Rank Math, an incredible tool that we installed and tested on our website. First, we wrote a blog. After we published the blog, Rank Math gave us a score, and we started the process of optimization. During the process, we were evaluating Rank Math over Yoast.
Immediately we saw the ease of use and multitude of benefits. As a note: There are free features where Yoast was charging.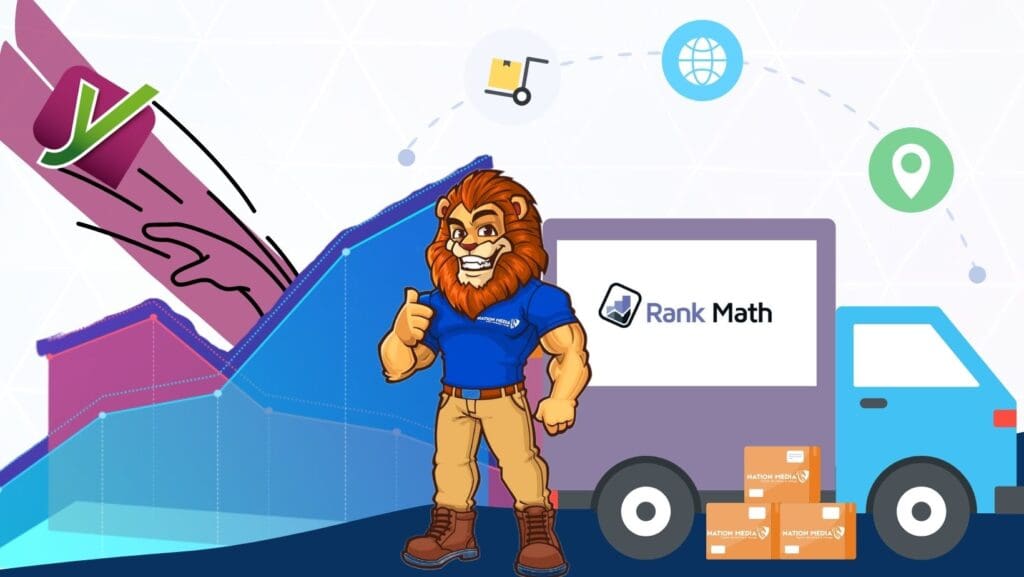 3. Rank Maths Clean & Simple User Interface
We find that Rank Math offers so much more than Yoast! It practically configures itself! What a relief! As stated on Rankmath.com, "The simple but powerful user interface highlights important information about your posts alongside the post itself. So you can improve your post's SEO instantaneously." – We found this to be true! 
4.Built-In Advanced SEO Analytics Module & Google Analytics Integration
Rank Math presents invaluable information from Google Search Console inside your WordPress dashboard. For example, you can see the keywords you rank for, your sitemap quality, and indexing matters. This knowledge is priceless in preserving a high-performance website.
Google Analytics is easy to view anytime on your WordPress dashboard. You never have to leave to see your stats.
5. Rank Math supports Multiple Schema Blocks
Your keywords for your business are the difference between being seen and being overlooked. With the local business schema support in Rank Math, your local business has a much higher chance of ranking and receiving more traffic.
In addition, adding schema allows for showing important product information right inside of SERPs.
These are just 5 of our top reasons for switching to Rank Math over Yoast. This incredible platform has so many features to offer. To name a few more, Keyword Comparison & Google Trends Tool, Add Knowledge Graph Metadata, News Sitemap for Submitting Websites on Google News, Automated Image SEO, Local SEO Optimization, Short code creation. The list goes on and on.
Providing the best and most valuable and effective services for our clients is of utmost importance. When we have methods that are not practical or features change, that does not work for us. Therefore, switching to Rank math over Yoast was the right decision. 
Overall, Rank Math offers more for our clients. We strive to provide the best services for all customers. We will continue to grow and change. Staying up to date with the newest and best practices is what sets us apart.
Nation Media Design is committed to developing and evolving with the times. Although you may not see the trends or techniques change, we do. That is why our customers stay with us and depend on us. When you succeed, we succeed.