Beating your online competition can be tough without the right team in your corner. We treat your business like our own, providing the same care and attention to detail to your online presence as our own brand. Don't just take our word for it, though. Our reviews speak for themselves!
UpCity is a resource that helps connect businesses to service providers they can trust.
With over 70,000 listed providers — from marketing agencies and accounting firms to HR consultants and IT specialists — two million businesses (and counting) have visited UpCity to research and identify the best partner for their needs. UpCity's proprietary algorithm utilizes a variety of digital signals to measure the credibility, trustworthiness, and recommend ability of B2B service providers across the U.S. and Canada.
These digital data points like reviews (both on UpCity and other third-party review sites), presence in relevant search results, domain authority, website speed, and experience help UpCity connect businesses with outstanding service providers like Nation Media Design.
Dan Olson, CEO of UpCity, had this to say about the Nation Media Design team:
"The team at Nation Media Design are incredible marketers and business consultants, but what makes them truly special is their commitment to providing friendly and efficient services at a price their clients can afford." – Dan Olson, CEO, UpCity
This recognition has been driven in large part by our perfect 5-star UpCity review rating. Here are a few of our favorite pieces of feedback we've received from our amazing customers:
"Nation media has professional and thoughtful staff. They are detail-oriented and always deliver beyond expectations!… The team of dedicated staff is always there and continues to amaze me! The knowledge that they have is like no other company I have seen before. They are always willing to help you think outside the box! I love Nation Media Design and 110% recommend them for anything you need!" – Amber Flores
 "I have nothing to say but GREAT things about Nation Media Design. Kaleb was super attentive to my needs, and his attention to detail was impeccable. I am more than satisfied with the work that Nation Media Design delivered and I would highly recommend their services over more than a dozen others that we've utilized for similar tasks…Turnaround time was great, communication was excellent and the price is right. Again all I can say is GREAT, GREAT work and I will definitely be using them for the long haul." – Hannah Mills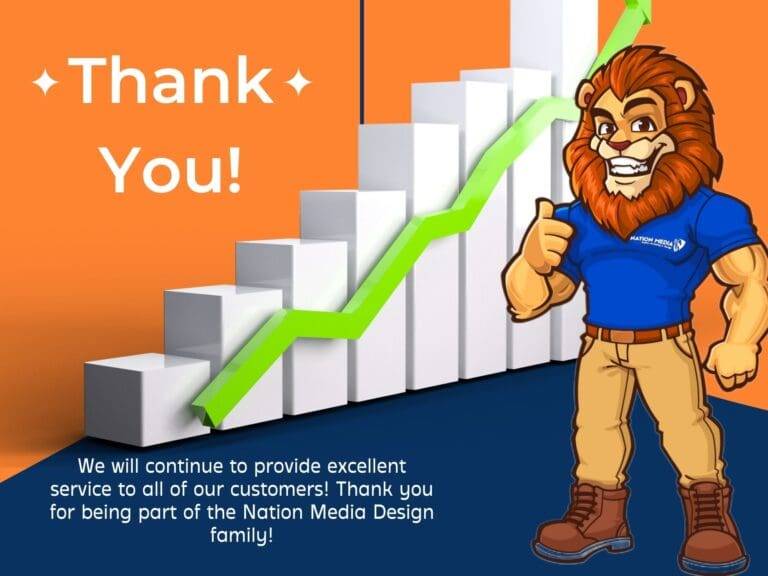 We are so proud to be listed as one of the top agencies in our field in the nation. Thank you to the UpCity team for recognizing us, and thank you to our clients, family, and friends for your unwavering support! We put our customer's needs at the forefront of our strategies to position goals and objectives to meet those needs. We believe customer service excels because of attention to organization. Is there something we can help you with? We're eager to help you with all of your digital media communication needs.