In this article, we thought we would look closer at Grand Rapids' local SEO, how you can implement it, and the benefits it provides.
What is Grand Rapids local SEO?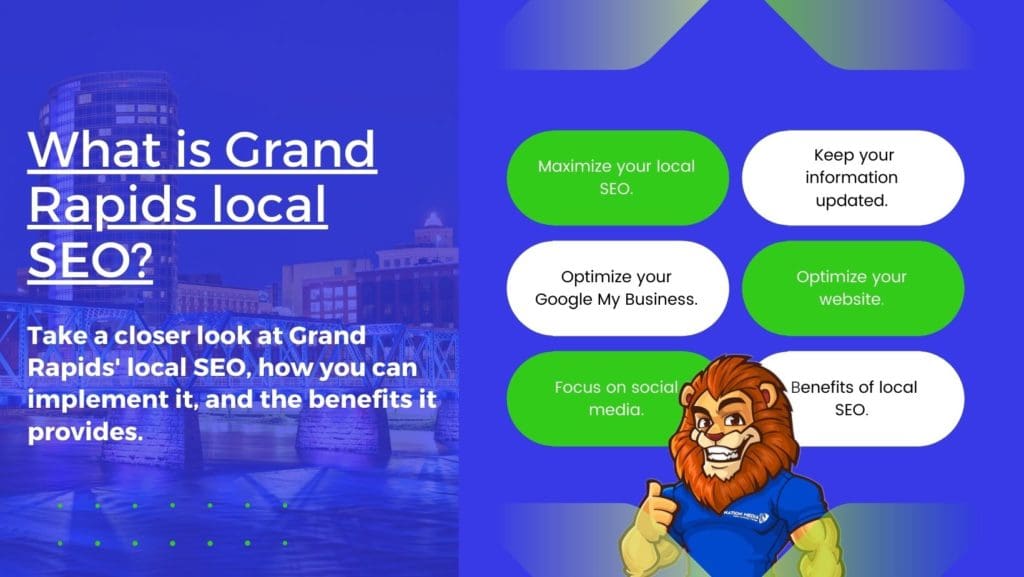 SEO, or Search Engine Optimization, is the process of improving the visibility of your website on search engines such as Google. These platforms factor in many signals when determining where to rank you. Local SEO involves improving the visibility of your brick-and-mortar location or services to the surrounding community.
When done correctly, this will significantly enhance your reach and allow you to showcase your brand to a huge number of potential customers.
How can you maximize your local SEO?
If you are looking to improve your Grand Rapids local SEO, then there are many different signals that you should be working to achieve. This includes:
1. Optimize your Google My Business
 One of the first things that you should do is focus on your Google My Business profile. This helps to support and verify your business in the local area, seeing you climb the ranks to page one.
Alongside fully setting up your account, you should also encourage your customers to leave reviews. When they do, you should then respond accordingly, showcasing to customers you are active.
Another top tip to boost your Grand Rapids local SEO is to ensure that your social media is active. Google is increasingly placing more focus on social media, so make sure that you are sharing content that is related to your brand frequently.
3. Keep your information updated
You need to make sure that you are keeping your contact details and business address up to date. You should always remember the acronym NAP (Name, Address, and Phone number), and make sure that this information is listed on your site via crawlable HTML text.
As you would with traditional SEO, you need to ensure that your website is optimized for your local content. You want to ensure you are targeting geographic search phrases across your pages, ensuring it is optimized for your services and products.
What are the benefits of local SEO?
Focusing on your local SEO in Grand Rapids will provide you with a huge array of benefits. The primary being that it will drastically boost your online visibility to potential customers in your community. This, in turn, will increase footfall to your physical store and boost sales.
Research has shown that more than 50% of consumers prefer to use local businesses, so getting your brand out there will help you transform your operation. Local SEO can also help improve your reputation and show customers that you are reliable and a thought leader in your field.
Need support with your local SEO?
Are you looking to improve your Grand Rapids local SEO? Nation Media Design is here to help you. Our expert team is on hand to help you enhance your ranking and take your business to the next level.
We offer a free comprehensive SEO report for every business, so if you want to find out more, submit your information today, and our team will be in touch soon.